"Value Added Services are one of the most important assets in a mobile network."
Not only can these services add a meaningful contribution to revenue and the average revenue per user (ARPU), but stable VAS is a hygiene factor for subscribers. Perhaps most importantly, VAS may be the only service that differentiates an operator from other generic "data pipes".
Our consolidated offer for VASc with partner Tecnotree is the first completely integrated and consolidated Value Added Services offering
The attractive cost of ownership is just one aspect of this offer. The tight integration even makes new services such as a multi-channel subscriber portal, possible.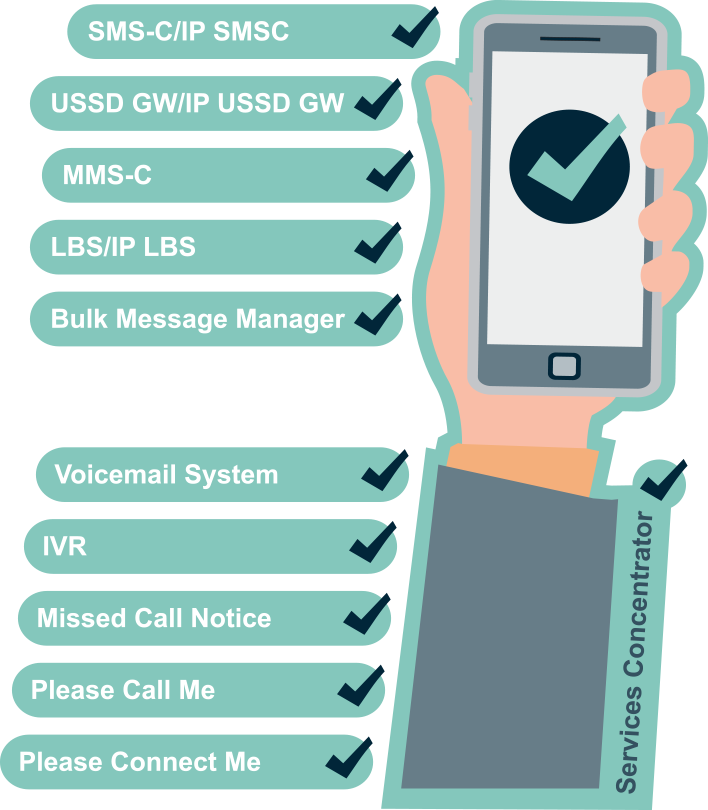 VOICE AND CALL COMPLETION:
SMS-C/IP SMS-C
USSD Gateway/IP USSD Gateway
MMS-C
LBS/IP-LBS
Services Concentrator
Bulk Messaging Campaign Manager
Voicemail System (VMS)
Interactive Voice Response (IVR)
Missed Call Notice (MCN)
Please Call Me
Please Connect Me
SUPPORTED NETWORK INTERFACES
MM1
MM7
MM4
SMPP
CIMS
SCTP
XML
E1
MAP
IS41
T1
SIP
S6c
SGd
Sh
COMBINED LICENSES FOR MESSAGING SERVICES
We understand your business has changed and so have we.
From this year, we offer our messaging bearer licenses on a consolidated basis. So for instance any licence purchased for an SMSC, may also be used on a USSD Gateway. Or the MMSC. Or LBS. Or the other way around.
"A full suite of functions in a modular design with high capacity."
Our SMSC supports 2G, 3G, LTE and even CDMA. It is made to be modular and scale to extreme traffic levels. Some of the features include:
Smart rating and billing via Diameter or other interfaces.
Unlimited short codes.
Unlimited premium rated codes.
Unlimited VASP accounts.
Configurable retry schedules.
Smart firewalling.
Foreign services gateway.
Multiple interface types for applications, including SMPP, CIMD2, SSMI and JSON.
Load balancing on any interface.
Failover on any interface.
Rate limiting per VASP account.
Dynamic rate limiting for bulk SMS account.
Premium rating configurable per short code.
Whitelist or blacklist.
Alarms and Reports.
Our SMSC may also be upgraded to offer our patented validated one time PIN (OTP) delivery for online and card-not-present banking.
SUPPORTED NETWORK INTERFACES
SMPP
CIMD2
SSMI
JSON
MAP
IS-41
Optimise Licencing whilst lowering OPEX
Whilst P2P Traffic has been slowing down, A2P traffic is higher than ever. Our FDA SMSC allows a mobile network operator to offload A2P traffic to a much lower cost system for delivery. The FDA may be configured to discard failed messages or to fail them over to the existing SMSC in order to use the retry capacity licence to its fullest.
The FDA will retry on system errors where delivery fails for a reason other than unavailable subscriber.
Advanced routing and monetisation
In an environment where there are multiple SMSCs that the MNO wants to expose to external application and content providers, or where the existing SMSCs do not have the capacity for large numbers of application accounts or where the existing SMSCs do not have adequate rating and charging functionality, the virtual SMSC can solve the problem in a very cost effective way.
PROVISIONING
LOAD BALANCING
SHORT CODE ROUTING
PREMIUM RATING
CHARGING
RATE LIMITING
FAILOVER
Thousands of SMPP3.4, CIMD2, SSMI, or JSON accounts may be configured and any number of short and long codes routed. All routes may be configured for a bearer charge as well as an ad hoc premium charge. Rate limiting is configured per application account. Failover and load balancing in the SMSC direction as well as the application direction are configurable.

Foreign Services Gateway (aka Home Routing)
Prevent direct delivery from off-net sources
The advanced routing features of the TruTeq Foreign Services Gateway function of the SMSC allows users on foreign networks to send SMS messages to local SMPP-connected applications. Subscribers from foreign networks cannot send SMS to an application connected to the local. This problem is overcome with a Foreign Services Gateway. The FSG acts as a virtual HLR and a virtual MSC/VLR. The virtual HLR handles incoming SRI requests from foreign networks. The SRI's intended for the virtual numbers provisioned for the content applications are completed and the foreign SMSCs are directed to submit the SMS to the virtual MSC/VLR from where it is routed to the SMSC and ultimately the service provider.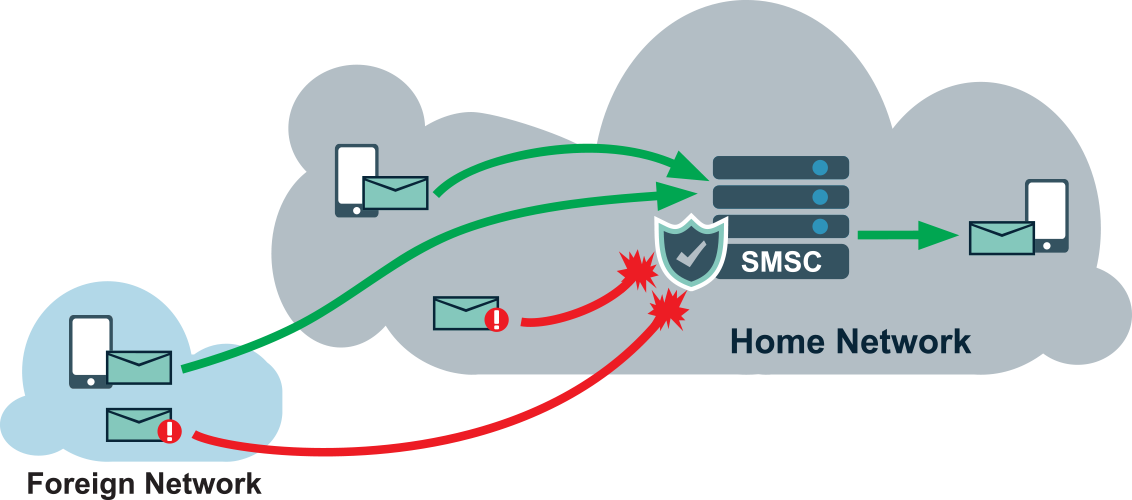 Stop those pesky spammers
SMS as a bearer is increasingly being used as a vector for fraud, with unauthorised parties bypassing standard interconnections and sending ill-intentioned SMS traffic to unsuspecting MNO customers and IoT devices. Studies have revealed that significant revenue is lost to SMS faking and spoofing, Denial of Service (DoS) and spamming. If this problem is left unaddressed, an MNO with can easily incur significant annual costs in asymmetrical inter-operator SMS termination charges and customer service costs related to dealing with disgruntled customers.
SMS fraud cases as defined by GSMA (PRD IR.71):
Anti-spamming:
block unsolicited SMS messages to a subscriber
Anti-flooding:
block large amounts of messages to one or more destinations
Anti-faking:
stop messages where the addresses of the messages are manipulated
Anti-spoofing:
stop messages illegally using the SMS-C of the client operator by manipulating the A-number
The close integration of the TruTeq SMS Firewall with our SMS-C suite of solutions ensures a highly scalable solution. This is achieved through the Refactoring Engine for our SMS-C/SMSFirewalls.
The TruTeq SMS firewall features:
Source validation
Whitelisting or blacklisting for source GTs and source numbers
Rate control to numbers
Rate control from numbers
Content filtering (and blocking)
Network agnostic (SMPP, GSM/3G, SIP/LTE)
Multi-language (UCS2)
Flexible rules and threshold tuning
USSD Gateway and IP USSD Gateway
"Fastest to deploy, fastest to monetize."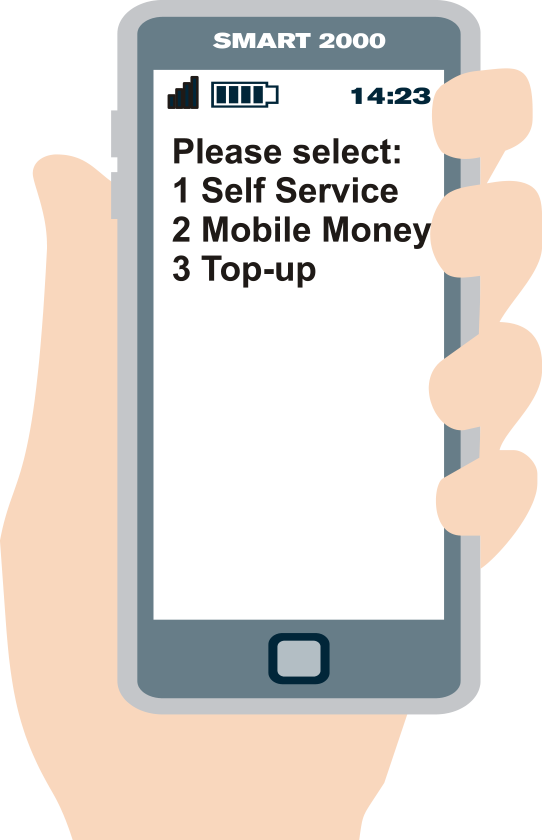 We have been building USSD Gateways for over 12 years and there is very little we cannot offer. Our USSD Gateway supports 2G and LTE and very high traffic volumes. We can even mimic phase 1 USSD-like services on CDMA. Just some of the features include:
Smart rating and billing via Diameter or other interfaces.
Unlimited ESME (VASP) accounts.
Unlimited service codes.
Unlimited premium rated service codes.
Multiple interface types for applications, including SMPP, SSMI and XML.
Load balancing.
Failover.
Rate limiting per VASP account for network initiated NI USSD.
Premium rating configurable per short code.
Whitelist or blacklist.
Alarms and Reports.
"Lower OPEX boosts margin. Stimulation packages boosts ARPU"
The Multimedia Messaging Service (MMS) is intended to provide a mechanism for the delivery of media-rich content such as pictures, audio clips and video clips to subscribers. It supports both the sending and receiving of this multimedia content by MMS-enabled mobile phones.
MMS is based on a store-and-forward strategy, so its use requires a messaging centre (MMSC). TruTeq's MMSC offering is based on Open-source components and we only charge for the integration and bits and pieces of our telco framework. This makes our fully-featured system a fraction of the cost of other proprietary products. The TruTeq MMSC is MNP ready and supports content adaptation.
The Gateway is designed and tested to conform to Open Mobile Alliance (OMA), WAP and 3rd Generation Partnership Project (3GPP) MMS standards including:
WAP: 209
OMA: MMS v1.2, UAProf v1.1
3GPP: TS 23.140
Phone-to-phone messaging.
Automatic content adaptation:
The server modifies message content depending on the capabilities of the receiving terminal.
Integrated Email-to-MMS and MMS-to-Email gateway.
Inter MMS-C message exchange (MM4 interface).
Support for MMS Value Added Service Providers using MM7 protocols (SOAP or EAIF).
Support for integration with subscriber database to enable smart handling of handsets that do not support MMS, handsets not provisioned, etc.
Support for flexible billing structure through billing/CDR plug-in architecture.
Bearer (data) technology neutral:
Works with GSM/CSD or GPRS.
As an optional item TruTeq can also provide our WAP Gateway to handle MMS traffic. A very important advantage of our offering is that there is a single vendor responsible for resolving any issue. This speeds up fault tracing and analyses. 
"Enhance the appeal and reach of applications."
Our Location Server uses statistical modelling to determine the most likely location of a subscriber. Accuracy is dependent on the quality of the information used, but typical values range from 500m to 900m. This is adequate for most applications and removes the need for expensive probes. Some applications are:
Fraud mitigation services for the card payment industry
"Find Me" services e.g. nearest restaurant, coffee bar, ATM etc
Location based charging, for example 'Home Zone' or 'Office Zone'
Retail offers – dependent on user proximity
Social networking services
Visitor local information services
Child find/locate services
Route planning/navigation
"Where am I" type information services
Location based games
Vehicle and asset tracking
Support for emergency services and Law Enforcement Agencies.
Bulk Messaging Campaign Manager
"Tapping into vast revenue potential."
SMS and MMS are highly effective ways to communicate with large numbers of people in a near real time manner. Millions of subscribers can be reached with targeted messages in a very short time.
Messages may also be scheduled not to be delivered at specific times of the day to ensure that messages are not viewed as intrusive or unwanted. Further to this, broadcast messages are still one of the most cost effective manners to communicate with targeted audiences.
When used in conjunction with a TruTeq SMS-C, MMS-C, First Time Delivery SMS-C or virtual SMS-C, the Bulk SMS application has a configuration feature that will rate limit batches dynamically to maximise throughput to the licensed limit.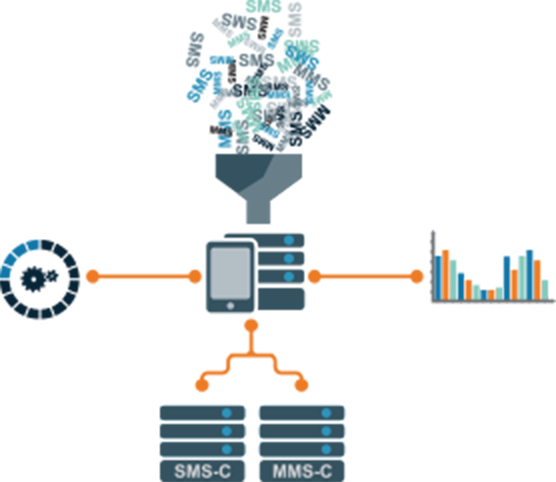 Delivery Scheduling
Priority management
Billing

Bearer
Prepaid/ postpaid
On-net/Off net/Foreign network
Message templates
Selectable Source numbers
Multi-level user hierarchy
Auto license utilization
Ability to capture customer responses against mobile numbers
Reporting
"A complete set of call completion functions that integrate tightly with the messaging suite"
Also known as "Call Back", this is the mainstay of call completion. With a call back ratio of 7% to 15%, it generates significant revenue. Apart from the benefit of having a call back solution, we also offer an advanced advertising campaign management platform that maximizes the value of the ads through time slot segmentation, user profile targeting and location awareness.
In addition, our Please Call Me platform can run separate from the normal USSD gateway and SMS-C, thereby saving significant license costs and delivering a high performance system.
What can be better than a Please Call Me platform with advanced advertising? The patented TruTeq version called Please Connect Me, of course! Instead of simply notifying the B-party, we give the B-party the option of being connected to the A-party immediately, or to be reminded later.
Offered with partner Tecnotree, this platform transforms the legacy Call Completion service (VoiceMail) into a new era by enabling high capacity and reliable Missed Call Notification services for the mass market, plus full-blown VoiceMail services for high ARPU subscribers. The feature-rich Call Completion suite provides compelling services to bridge the gap between the operator and the socially connected subscriber, including integration with email and Social Media.
Missed Call Notice is an often overlooked source of additional revenue. When deployed correctly, MCN can contribute up to 10% additional call-back voice revenue by making the subscriber aware of attempts by others to get in touch. The system is streamlined to summarize all contact information into a single SMS when the subscriber returns online. MCN is offered with Tecnotree.
Interactive Voice Response (IVR)
Benefit from the provided tools to host various voice and video services on the same platform. The VASc platform itself enables services like Call Conferencing, Outcall Campaigns, Call Center IVRs and more. The addition of the Service Engine component unlocks the capability to deploy almost any new voice service imaginable, at a marginal additional cost. The IVR platform is offered with Tecnotree